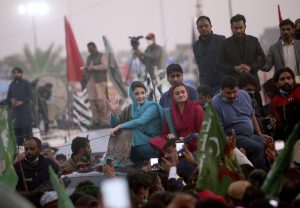 Despite a government ban and arrests of hundreds of activists, Pakistani opposition supporters rallied in a central city on Monday, calling on Prime Minister Imran Khan to resign over alleged bad governance and incompetence.
The rally in the city of Multan was held a day after police, on orders from the government, carried out the arrests and banned the gathering, defending the move as necessary to combat the coronavirus pandemic in Pakistan.
Police earlier in the day acknowledged arresting over 370 people, while opposition groups put the number at more than 1,800. Authorities in Multan also switched off the area's mobile phone network.
On Sunday night, security forces placed shipping containers on major roads to block off the path to a public park where the opposition planned to hold the protest. But opposition leaders defied that to march to the park, setting off clashes that led to the arrests.