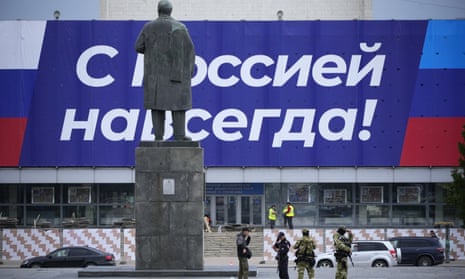 President Vladimir Putin's planned annexation of parts of Russian-occupied Ukraine, after sham referendums there, is at least as dangerous a moment in the war as the marathon televised spectacle that prefaced Russia's invasion in February.
Of course, things have not gone as Putin planned.
Back in February, he sought to justify the invasion in an angry speech laced with legal verbiage coupled with a pre-recorded show of support from the country's top brass. The only thing genuine in Putin's effort to frame the "special military operation" as something other than naked aggression was Putin schooling the head of his spy service, Sergei Naryshkin, as he flubbed his script and said he backed the proxy states in east Ukraine becoming part of Russia.
Naryshkin was half a year too early and too mean in his ambition. With its invasion, Russia had planned to swiftly decapitate the political leadership in Kyiv, occupy a huge swath of territory, and exercise influence over a newly friendly Ukraine, perhaps leaving some troops there. Ukraine's dogged resistance culminating in the lightning recapture of territory in the Kharkiv region has put the Kremlin on the back foot, forcing it to rush forward haphazardly with what has emerged as its plan B.