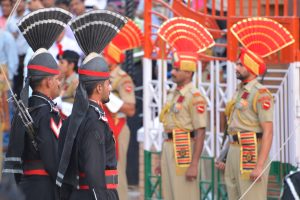 The India-Pakistan relationship went into virtual dormancy in 2019. Since then, both states have been on divergent trajectories: India's agency to influence global events has increased, just as Pakistan's has decreased.
In recent times, there has been some advocacy for Indian non-engagement with Pakistan. This includes a recent article on this platform rationalizing India's limited appetite for diplomacy with Pakistan. While this is true, I argue that it is this imbalance of agencies that should push India to engage Pakistan in the longer term – not on moral considerations, but in recognition of New Delhi's stronger bargaining position. India can use its advantage to extract enduring political gains from Islamabad.
Pakistan's abject economic distress is being compounded by a fierce internal security threat from the Tehreek-e-Taliban Pakistan (TTP), at a time when the Afghan Taliban are testing Pakistan's patience at the Durand Line. Politically, former Prime Minister Imran Khan's street power is probing the present politico-military establishment's resolve everyday. This perfect storm has led to a discernible reduction in Pakistan's ability to wield its geopolitical influence, and hence attract international attention on disputes with India.
However, the permanence of geography allows Pakistan to retain some agency in bilateral ties. Notably, the Pakistan Army has adhered to the renewed ceasefire at the Line of Control (LoC) since February 2021, despite opportunities to probe India during the latter's skirmishes with China at the Line of Actual Control. This is significant considering that key Pakistan-facing units of the Indian Army have now pivoted to face China, effectively bringing the balance of forces at the LoC relatively closer to parity. Indian General Manoj Naravane, who oversaw this shift as the then-army chief, recently confirmed that reassuring Pakistan was part of New Delhi's rationale for the rebalance.