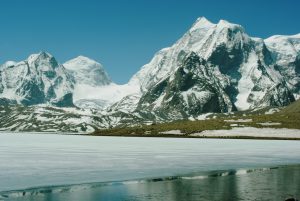 Glaciers in India's northeastern state of Sikkim are melting at a faster rate compared to those in other Himalayan regions, a study has revealed, confirming a development that had been discernible decades ago.
Scientists at the Wadia Institute of Himalayan Geology (WIHG) disclosed recently that glaciers in the Indian state have retreated and deglaciated significantly from 1991 to 2015. While the small-sized glaciers are retreating, the larger ones are thinning due to climate change.
The study assessed the response of 23 glaciers in the border state, where the magnitude of dimensional changes and debris growth were found to be higher since 2000. These glaciers were selected based on multiple criteria such as size, length, debris cover, and slope.
The gist of the report, which was released by the Press Information Bureau (PIB), also mentioned that glaciers in Sikkim have shown negligible deceleration after 2000, which was contrary to the trend discernible in the western and central Himalayas, where glaciers are reported to have slowed down in recent decades.