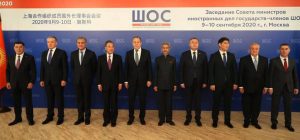 High in the mountains of Ladakh, Asia's economic giants India and China came to blows in June in their disputed border area, the deadliest incident between the two countries in over 40 years. Signs have also emerged that China is aligning with its all-weather ally Pakistan to drive India out of the Shanghai Cooperation Organization (SCO), a turn of events that would shift the balance of power in Eurasia as New Delhi prepares to host the SCO summit in November.
India desperately sought to join this forum back in 2005. The SCO charter's ideals, neatly packaged as the "Shanghai Spirit," appealed to India's own desires for joint solutions to regional challenges and a spirit of good-neighborliness. New Delhi sought to leverage the SCO to expand its political and economic ties with Eurasia, and to enhance connectivity and promote cooperation in the fight against terrorism.
Strategically, the SCO was valued by India as a way of balancing its ties with the United States, while simultaneously keeping China's regional ambitions in check.
New Delhi was finally admitted to this club of ex-Communist countries in 2017 with Russia's help, but along with rival Pakistan. Three years in however, India finds itself faced with a geopolitical paradox: The desire to remain involved in a de facto anti-American organization while simultaneously bridging relations with Washington in the face of a more assertive China.