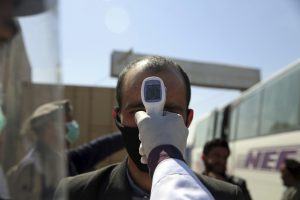 Long-suffering Afghanistan is increasingly facing an ever more severe threat: coronavirus amid political chaos. If serious action is not taken to prepare, the Afghan Public Health Ministry estimates that 25.6 million Afghans will be infected and 110,000 Afghans will die from COVID-19.
If that estimate is borne out, the casualties from the virus will be much higher than the total civilian causalities of the more than 18-year war.
Afghanistan recorded its first positive case of COVID-19 in late February. A combination of political rifts, lack of testing, extremely social lifestyles, and a war-torn health care system led to Afghanistan's failure to contain the novel coronavirus in the early stages. The country has struggled to diagnose COVID-19 cases, prevent an outbreak, and treat patients. Meanwhile, thousands of Afghans have been returning from Iran, where the pandemic has already hit especially hard.
The political dispute over the 2019 presidential election continues to drain attention away from battling the coronavirus. The dispute has turned into an ugly mess, forcing U.S. Secretary of State Mike Pompeo to fly from Washington D.C. to Kabul in hopes of brokering a deal between Ashraf Ghani and Abdullah Abdullah, both of whom claim the mantle of president. Pompeo flew back empty-handed, and soon followed up with an angrily-worded statement threatening to cut $1 billion in U.S. aid.