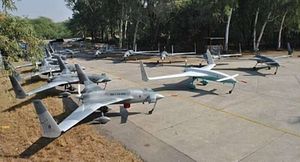 India witnessed a significant drone attack at the Air Force Station in Jammu on June 27, 2021. The airbase, which is 14 km away from the India-Pakistan border, was attacked by low–flying drones that dropped two improvised explosive devices (IEDs). One IED exploded on the roof of the building, and the other in an open area. This one-off incident shook the security establishment.
Drone incursions across the border have intensified since then. Drone sightings have increased manifold along the India–Pakistan international border and along the Line of Control (LOC) in Kashmir. India's Border Security Force (BSF), which guards the international border on the Indian side, reported more than 268 drone sightings in 2022, compared to 109 in 2021 and 49 in 2020.
The rapid growth in drone sightings suggests that drones have emerged as a new strategic tool used by Pakistan to gain an advantage in the border conflict with India. Drones are also increasingly a tool of choice for transborder terrorist organizations and Pakistan-backed proxies in India. Drones can be used for both kinetic operations – attacks in military and civilian spaces – and non-kinetic operations, in which drones are used to smuggle counterfeit currency, drugs, small arms, and ammunition across the border. The latter is significantly felt across the Punjab border, where narco–terrorism has intensified. The capture and occasional shoot-down of drones carrying drugs and arms are now regularly reported across the Punjab border.
In the Poonch terror attack on April 20, in which five soldiers were killed, it is reported that drones were used to drop weapons and cash to militants who carried out the attack.
The use of drones or unmanned aerial vehicles (UAVs) in conflict is now a global phenomenon, with non–state actors such as Yemen's Houthi rebels coordinating major drone attacks on Saudi and Abu Dhabi oil facilities. The use of armed UAVs has also been observed in major conflicts such as in the Western Libyan military conflict of 2019–20, the Armenia–Azerbaijan conflict over the Nagorno–Karabakh region in 2020, and the ongoing Russia–Ukraine conflict. The reasons are manifold: their affordable cost and relatively simple technology make it easy for non–state actors to acquire and deploy drones, while their small size and technological features make it difficult to detect drones using modern radar and air-defense systems. In addition, UAVs make long-range precision strikes possible, thus reducing close combat on the battlefield and avoiding human losses.