Rajeswari Pillai Rajagopalan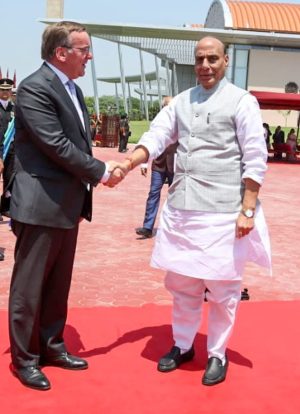 Faced with a worsening naval balance in Asia, India is seeking to build additional submarines, and Germany is its latest potential partner. An Indian-German team will bid to jointly produce six submarines costing around $5 billion (420 billion Indian rupees).
Under Project 75I, India's Mazagon Dock Shipbuilders Limited (MDL) and Germany's Thyssenkrupp Marine Systems (TKMS) signed a memorandum of understanding that has the two parties bidding to co-produce the submarines. According to an Indian official who spoke to Indian media, the German partner TKMS "will contribute to the engineering and design of the submarines as well as the consultancy support" while the Indian partner, MDL, is responsible "for constructing and delivering the submarines."
German Defense Minister Boris Pistorius, who was on a visit to India after participating in the Shangri-La Dialogue, said that "India is an important, not to say the most important, strategic partner for Europe and also for Germany." He sees the submarine deal as a "flagship project" to cement bilateral defense ties as well as a step in reducing Indian dependency on Russia in the long term. Responding to a question during an interview with an Indian newspaper, the German minister said that "we can't have an interest in the long run that India is so dependent on Russia's delivery of weapons or other materials. Therefore, we have to think about that, what we can do."
Others, such as South Korea's Daewoo and Spanish firm Navantia, are in the competition too. On the India side, it will be either the MDL or a private industry player, Larsen & Toubro, that will be chosen to construct the six stealth diesel submarines.
Under the global tender issued by the Indian government in July 2021, the new submarines will need to be equipped with land attack cruise missiles and air-independent propulsion (AIP) through foreign collaboration. India does not have even one submarine with AIP, which enhances a submarine's underwater endurance. The AIP requirement will push out both the French and Russian competitors because neither operate submarines with AIP.