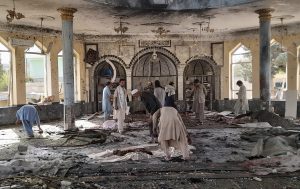 In this Oct. 8, 2021 file photo, people view the damage inside of a mosque frequented by the Shiite Muslim minority following a deadly bombing claimed by the Islamic State that killed dozens, in Kunduz province, northern Afghanistan.Credit: AP Photo/Abdullah Sahil, File
The international community risks underestimating the threat posed by the Islamic State in Afghanistan, also known as Islamic State Khorasan Province (ISKP). Just this week it was revealed that the Taliban had killed the Islamic State militant believed to be the leader of the cell that orchestrated the suicide attack near Abbey Gate at Kabul's airport in August 2021. That attack killed 13 U.S. servicemembers, as well as 169 Afghan civilians, and remains part of a broader inquiry by the U.S. Congress, where a series of hearings aims to investigate the disastrous U.S. withdrawal and its aftermath.
The Biden administration has attempted to assuage its critics by touting the efficacy of "over-the-horizon" counterterrorism strikes, relying on armed drones and intelligence, surveillance, and reconnaissance (ISR) capabilities to target terrorist leaders. The killing of al-Qaida leader Ayman al-Zawahiri in July 2022 at a Haqqani guest house in Kabul is frequently cited as proof of concept. But that strike, impressive as it was for its lethal precision, is merely one data point. Offshore counterterrorism campaigns are complex and challenging even for a military as advanced as the United States.
The challenge posed by ISKP is far more complex than the Biden administration has acknowledged. The group has spread to nearly all of Afghanistan's 34 provinces and boasts between 1,500-2,200 members. Since August 2021, the Islamic State's Afghan affiliate has committed nearly 400 attacks in Afghanistan and Pakistan's Khyber Pakhtunkhwa region. Within Afghanistan, ISKP has relentlessly attacked the Shia Hazara community in an attempt to further its sectarian aims. The group has been behind some of the most heinous attacks in recent memory, including the bombing of a maternity ward in Kabul in May 2020 and another attack against an office of Save the Children in Jalalabad.