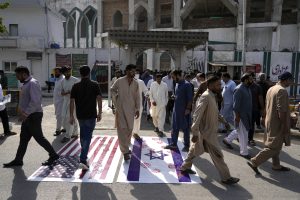 On October 7, the Palestinian militant group Hamas launched an unprecedented attack on Israel. Hamas militants entered Israeli communities near the Gaza Strip, killed hundreds of people, and took dozens of hostages. This is Hamas' most ambitious strike against Israel launched from Gaza.
Israel declared war against Hamas and has counter-attacked Gaza Strip and Hamas bases with airstrikes. It has called for a complete seizure of Gaza. Israeli Prime Minister Benjamin Netanyahu vowed to destroy Hamas and warned that the offensive against the group would continue "without reservation and without respite."
Over 2,900 people have died within a week of the conflict. Scores of foreigners are among the victims.
Though geography separates the conflict zone from South Asia, the violence has impacted the region directly and indirectly. Only four of the eight countries in the region — Nepal, India, Sri Lanka, and Bhutan — have diplomatic ties with Israel.
Ten Nepali citizens have died in the attacks, with hundreds of others taking shelter in bunkers. On October 12, Nepal air-lifted 253 citizens from the war zone. They are students who were "learning and earning" in Israel. Kathmandu is preparing the logistics to bring back the bodies of the 10 victims.
Similarly, India is preparing for "Operation Ajay" to facilitate the return from Israel of Indian citizens.