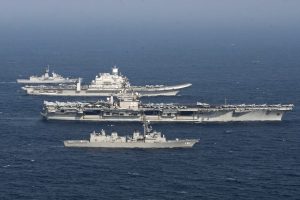 Ships from the Royal Australian Navy, Indian Navy, Japanese Maritime Self-Defense Force, and U.S. Navy sail in formation during Malabar 2020.Credit:
Flickr/U.S. Pacific Fleet
Amid the dizzying news that shook up President Donald Trump's last days in office, the White House declassified a relatively unspectacular new document: its Strategic Framework for the Indo-Pacific.
It was unclear why the White House chose to do that in the middle of a chaotic transition. The framework contained many well-worn cliches of Trump's foreign policy in the Indo-Pacific: that countering China's expanding influence is the headline priority; that North Korea should be defanged; and that the U.S. should establish "fair and reciprocal" trade. Some analysts, such as Nitin Pai at the Takshashila Institution, wondered if this was the Washington foreign policy establishment's way of preempting a softer China policy from President-elect Joe Biden.
Regardless of the White House's strategic rationale, the framework was still an interesting revelation of how the Trump administration saw the Indo-Pacific's major powers – and India, in particular. The document asserted India's role as a key U.S. security partner, including Washington's aspiration that it will become New Delhi's "preferred partner" on security issues. It also talked about ensuring that India remains preeminent in South Asia and expressed hopes that it would take the leading role in maintaining Indian Ocean security and increase its engagement in Southeast Asia. It further reaffirmed many of India's other aspirations, including its Act East policy and New Delhi's "aspiration to be a leading global power."