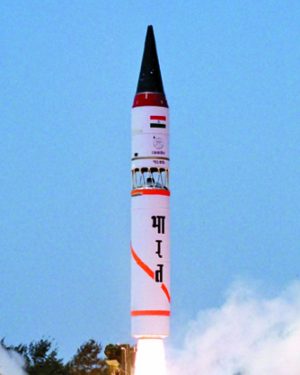 India conducted the first night test of its Agni III surface-to-surface ballistic missile off the coast of the state of Odisha on Saturday, December 1. The test used a missile selected randomly from the production set. The test, however, ended in an alleged failure, as one report suggested that the missile tumbled into the sea during stage separation.
The intermediate-range ballistic missile (IRBM), pressed into service in 2011, services as a critical component of India's nuclear deterrent. If the report, which quotes a highly placed source, is indeed true, then this is not only an acute concern for India's Strategic Forces Command, but also sends mixed signals about India's credible deterrent.
Development of the Agni III, a two-stage solid propellant missile, began as early as 2001 with the goal to build a highly mobile and survivable missile. Inducted into the Strategic Forces Command (SFC), the missile — designed and developed by the Defense Research and Development Organization (DRDO) — is said to have a range between 3,000 and 5,000 kilometers, with the ability to carry warheads of up to two tons and possibly reach targets in China.