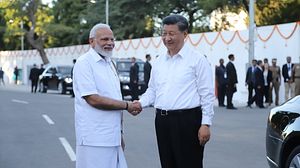 In his assessment of the ongoing India-China border standoff, the venerable Ashley Tellis said that India has three options ahead of it: one, give in to China's border demands; two, physically push the Chinese out and risk a war; or three – his recommendation – play "tit for tat."
Tellis pointed out that there are locations along the Line of Actual Control (LAC) – the de facto border between the two countries – where India has a relative advantage over the Chinese. The Indian army should ensconce itself in these places, Tellis said, in order to force Beijing to negotiate.
The situation on the ground is unclear and confusing, but some reports have suggested that India is trying to do precisely this. Border standoffs between India and China ebb and flow regularly and Beijing has often been seen as the more powerful of the two. Over the past many years, India has tried to compete by making significant progress in developing its own border infrastructure. Some analysts have suggested that this was, in fact, how the latest standoff began: India has laid a series of roads and air strips along the border and the Chinese are now seeking to counter that threat.