By Ameya Pratap Singh and Urvi Tembey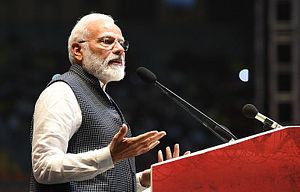 The COVID-19 pandemic has added to the woes of the Indian economy, which was already reeling from a pre-lockdown slump. With the exception of the rice milling sector, a survey conducted by the United Nations Industrial Development Organization (UNIDO) to assess the impact of COVID-19 on India's economy noted that manufacturing in India has come to a complete standstill. Economic stagnation was already beginning to reflect in data released by India's Central Statistics Office, which indicated that gross domestic product rose only by 3.1 percent in the fourth quarter of financial year 2020 (January to March) — the lowest quarterly GDP growth since the fourth quarter of financial year 2009. 
To spur economic growth in India, Prime Minister Narendra Modi recently announced a $265 billion stimulus package, called the "Atmanirbhar Bharat Abhiyan" (Self-Reliant India Scheme). This scheme amounts to roughly 10 percent of India's GDP. In his address, Modi said: "India's self-reliance will be based on five pillars — economy, infrastructure, technology-driven system, vibrant demography and demand." Indian Commerce and Industry Minister Piyush Goyal later argued that India did not want to be "dependent or at least not overly dependent on the rest of the world." Instead, it was confident of its ability to "produce quality products…in a cost-competitive manner, that [it could] compete with anybody in the world…even given some of disadvantages that [India] faces." New Delhi has declared its intention to prioritize cottage and home industries, small and medium enterprises (SMEs) and other ancillary industries. Further, it has committed to enhance manufacturing in the PV cell sector, and identified five "Champion Sectors"— pharmaceuticals, textiles, gems and jewelry, renewable energy, and leather—to boost production.