Official says more than 40 people also wounded in the attack that targeted a police headquarters in key port city.
Chabahar in Iran's Sistan-Baluchestan province is located near the border with Pakistan 
Four policemen were killed and 42 other people were wounded in a suicide car bomb attack on a police headquarters in Iran's southeast on Thursday. 
The attack occurred in Iran's southern port city of Chabahar, state television Press TV reported, quoting security and local officials.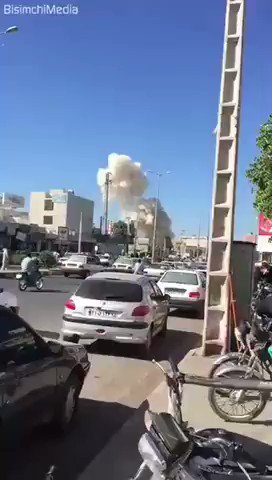 State media also reported shooting in the area, home to a Sunni Muslim minority in the largely Shia country, which has long been plagued by violence from both drug smugglers and separatists.
Rahmdel Bameri, governor of Sistan-Baluchestan province, said a bomb-filled vehicle was used to target the police station by the suicide attacker.


"Police stopped the explosive-laden car and started firing at the driver ... who then set off the explosion near the police headquarters in Chabahar," said Bameri.
Images posted online showed thick smoke rising from the sky in the area where the attack took place.
The SITE Intelligence Group reported that Sunni armed group Ansar al-Furqan claimed responsibility for the attack.
Iran's Foreign Minister Javad Zarif accused a foreign power of involvement without naming a specific country.
"Foreign-backed terrorists kill and wound innocents in Chabahar. As we've made clear in the past, such crimes won't go unpunished," Zarif
said
on Twitter.