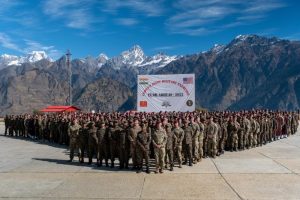 Rishi Lekhi and Manish Swarup
Indian and U.S. troops on Tuesday participated in a high-altitude training exercise in a cold, mountainous terrain near India's disputed border with China, at a time both countries are trying to manage rising tensions with Beijing.
During the exercise, Indian soldiers were dropped from helicopters to flush out gunmen from a house in a demonstration of unarmed combat skills. Other drills involved sniffer dogs and unmanned bomb-disposing vehicles, and trained kites were deployed to destroy small enemy drones.
"Overall, it has been a great learning experience. There has been sharing of best practices between both the armies," said Brig. Pankaj Verma of the Indian Army.