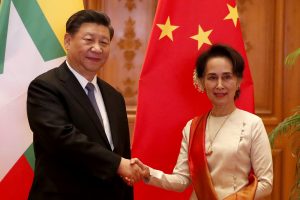 On February 1, a coup in Myanmar saw the ruling National League for Democracy (NLD) ousted and NLD leader Aung San Suu Kyi, among other leaders, detained, whereabouts unknown. With that, Myanmar returned to military rule after 10 years of gradual, albeit limited, political opening.
The change in Myanmar will be closely watched in Beijing. And despite a long history of cozy relations with the Tatmadaw during Mynamar's previous stint of military rule starting in the late 1980s, China will not be celebrating.
"A coup in no way is in Beijing's interests. Beijing was working very well with the NLD," said Yun Sun, a co-director of the East Asia Program and director of the China Program at the Stimson Center in Washington, D.C.
"If Beijing has a choice, I think they would prefer the NLD over the military. But they don't have a choice… so they have to deal with whatever comes along."
The first official reaction, from Chinese Foreign Ministry spokesperson Wang Wenbin, was decidedly bare-bones: "We have noted what happened in Myanmar, and we are learning more information on the situation."