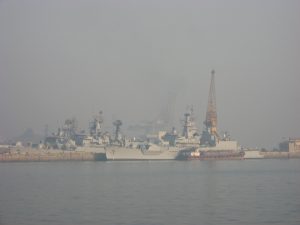 The latest announcement about the creation of India's first Maritime Theater Command by 2021 is a seminal development and part of the long overdue transformation of India's armed forces. Reportedly, the commander-in-chief of the new maritime theater command, who will be based at Karwar on the west coast of India, will exercise full operational control over extant western and eastern naval fleets, maritime strike fighter jets and transport aircraft from both the air force and the navy, and two amphibious infantry brigades and other assets under the Andaman and Nicobar Joint Command.
The maritime theater command will be the first new "geographical" theater command to be created, as part of the biggest-ever military restructuring plan since India's independence in 1947 when the Indian army, navy and air force were initially structured under separate operational commands. This arrangement impacted overall operational planning and efficiency, particularly in matters related to new acquisition, compatibility of equipment, drills/ procedures, training and logistics, leading to huge wastages.
Following the appointment of General Bipin Rawat as the country's first chief of defense staff, a slew of transformational changes — to be implemented on a war footing — have been announced. The country will now have a few and but geographically large theater commands, such as the maritime theater command, and joint functional commands such as the air defense command, and a joint logistics command.