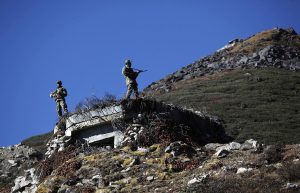 Is the list aimed at warning India against hosting an upcoming air combat exercise with the U.S., where Japan will participate as an observer?
The Chinese government has released a list of what it calls "standardized geographical names" for 11 places in Arunachal Pradesh, along with a map depicting much of this Northeast Indian state as part of what it refers to as "Zangnan," the southern part of the Tibet Autonomous Region.
The list, which China's Ministry of Civil Affairs released on April 2, provides coordinates of two residential areas, five mountain peaks, two rivers and two other areas, all in Arunachal Pradesh, and their names in Chinese characters, Tibetan and pinyin.
The Chinese move is yet another attempt by Beijing to strengthen its claims over Indian territory in the eastern sector of the disputed Sino-Indian border i.e. in Arunachal Pradesh. As the noted Tibetologist Claude Arpi told The Diplomat last year: "This is part of the propaganda to assert China's claims."
India reacted with a strong statement in response to the Chinese renaming of Indian places. "We reject this outright. Arunachal Pradesh is, has been, and will always be an integral and inalienable part of India," the Ministry of External Affairs (MEA) said in a statement, adding that "attempts to assign invented names will not alter this reality."