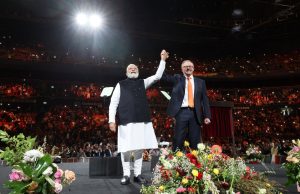 Last week Indian Prime Minister Narendra Modi made a high profile visit to Australia. As is now customary when Modi travels to countries with a significant Indian diaspora, he put on a show, this time holding an event at Sydney's Olympic Park stadium. These events serve the primary purpose of projecting a powerful image of Modi abroad back into India. Yet at this event Australia's prime minister, Anthony Albanese, chose to enthusiastically participate, allowing himself to be used by Modi in this performance, and blurring the line between Australian diplomacy and Indian domestic politics.
By now the Australian government should be aware of the nature of these events and what their purpose is. It should also be aware of the behavior of Modi's Bharatiya Janata Party (BJP) – its authoritarian impulses, discrimination against minority groups, persecution of journalists and other government critics, and tacit endorsement of vigilante groups. When questioned about this behavior, Australian ministers have either been silent or mouthed platitudes about India being "the world's largest democracy."
Yet democracy is not just the holding of regular elections. Democracy is about government's respect for the governed, and in particular respect toward non-dominant groups, allowing them full civic participation, not a set of parallel and arbitrary rules. Democracy is also about the essential scrutiny of governments by the media and civil society groups, something the BJP bristles at.
Again, this is something the Australian government should be well aware of. Therefore the question is why Canberra chose to fête Modi in the manner that Albanese did last week.
The obvious answer is that in order to enhance bilateral relations Canberra must deal with the government of the day. The blunt reality of economic interests means that the size of India's market presents an enormous opportunity for Australia, and given the suspicion of foreign trade within India – including within the BJP – this requires a certain greasing of the wheels.