Arindrajit Basu and Mira Swaminathan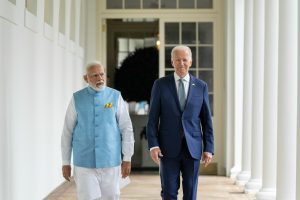 President Joe Biden and Prime Minister Narendra Modi of India walk along the Colonnade of the White House, Thursday, June 22, 2023, to the Oval Office following the State Arrival Ceremony on the South Lawn.Credit: Official White House Photo by Cameron Smith
A "high-tech handshake" is at the core of this new convergence. Unsurprisingly, this was the title of an event involving the two leaders and CEOs of leading Indian and U.S. technology companies. Acknowledging revitalized convergence in high-tech, defense, climate, and overall strategic ties, what does this handshake mean for digital trade and the regulatory environment for businesses going forward?
Catalyzed high-tech ties in the strategic and defense sector have not and will not automatically lead to domestic policy convergence and a frictionless digital trade relationship. Ongoing forums for collaboration and dialogue such as the U.S.-India Trade Policy Forum and the U.S.-India Commercial Dialogue have to iron out a number of issues before concretely impacting the policy and digital trade landscape. Technology companies that desire a long-term presence in the Indian market have begun to realize the need to separate digital trade policy and high-tech strategic cooperation when building on or deriving value from the rejuvenated technology relationship.
What Is a Tech Handshake?