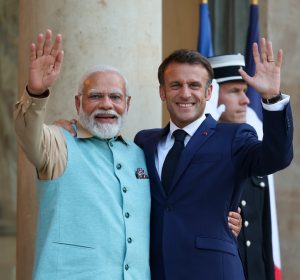 Indian Prime Minister Narendra Modi with French President Emmanuel Macron in Paris, France, to mark the celebration of the 25th anniversary of the strategic partnership, July 14, 2023.
India's Prime Minister Narendra Modi is on a charm offensive overseas, as he seeks to shore up his image as a global statesman ahead of next year's parliamentary elections. Last month, Modi went to the United States and Egypt. This month, he has already visited France and the United Arab Emirates.
Much is made of India's strategic partnership with the United States. In Washington last month, U.S. President Joe Biden called it "one of the defining relationships of the 21st Century." Last year, his Treasury Secretary Janet Yellen called India and the U.S. "natural allies."
Yet, of all those countries which Modi visited, France is perhaps the one with which India has the most common ground.
Take defense — the backbone of India-U.S. ties in contemporary times. In recent years, India has tried to diversify its defense supplies, which have traditionally been dominated by Russia. But even as New Delhi has done that, the biggest winner has not been the United States but France.
Before 2016, France accounted for less than 5 percent of India's annual arms imports, according to the Stockholm International Peace Research Institute (SIPRI). But between 2018 and 2022, some 30 percent of India's arms came from that country. France is now India's second-largest arms supplier behind Russia and ahead of the U.S.
Part of this is because France is more able and willing than the U.S. to share advanced technology at affordable prices. As one report by the Stimson Center in Washington put it, "The United States is seen as a second-tier technology partner behind Russia, Israel, and France in terms of ease of working with U.S. companies, technology-sharing, and costs."