By Richard M. Rossow and Kriti Upadhyaya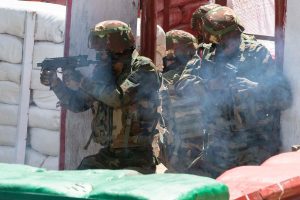 Indian Army soldiers fire their weapons during a room clearing demonstration as part of Yudh Abhyas, an exercise that enhances the joint capabilities of both the U.S. and Indian army through training and cultural exchange, Sept. 21, 2018.Credit: 
The U.S.-India 2+2 Ministerial held in New Delhi in late October 2020 put a solid endcap on another strong four-year run in defense relations between the two countries. However, a threat to the emerging relationship looms large — potential sanctions against India for procuring Russian military equipment under the Countering America's Adversaries through Sanctions Act (CAATSA). It is not clear whether the existing waiver authority is wide enough for India, much less whether sufficient political interest exists to use such a waiver. Thus, CAATSA relief will likely hinge on whether India's increasing contribution to Asian security overrides India's continued reliance on Russian military equipment.
U.S.-India relations have come a long way since the Cold War. There are still places India falls short of some U.S. security analysts' expectations. Some examples include playing a more active role in supporting stability in the South China Sea; maintaining distance from Iran; and supporting U.S. counterterrorism efforts against the Islamic State. Yet, India faces significant threats from China across a range of domains and has stepped up in important ways. As a result, India is emerging as a key U.S. strategic partner. The two nations have made significant strides in defense cooperation through the signing of four foundational agreements, expanded joint military exercises, personnel exchanges, and a common strategic outlook toward containing the Chinese threat. U.S.-India defense trade is today worth over $20 billion. This expanding level of cooperation will be seriously threatened if CAATSA sanctions are enforced when India takes possession of Russian-made S-400 Triumf missile defense systems, likely toward the end of this year or in 2022. The sanctions will come into place automatically unless the CAATSA waiver authority is utilized 30 days before sanctions are to take effect. Additionally, India is also procuring other defense items from Russia that could trigger a review.