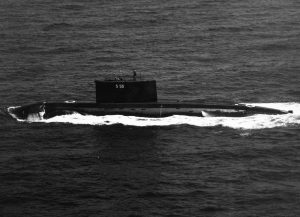 The Indian Navy is considering an offer by Russia's state-owned JSC United Shipbuilding Corporation (USC) for three refurbished Kilo-class submarines to augment its shortfall in diesel-electric submarines (SSKs), according to local media reports.
USC reportedly offered a $1.8-2 billion "three plus three" package that would include upgrade work on three Indian Navy Sindhughosh Kilo (Project 877EKM)-class SSKs with an additional three refurbished Russian Navy Kilo-class hulls.
The possible defense deal was expected to be raised at a meeting of the India-Russia Inter-Governmental Commission on Military and Military Technical Cooperation (IRIGC-M&MTC) that was scheduled to take place in Goa last month but was cancelled due to the Covid-19 pandemic.
The Indian Navy would receive the Russian-made SSKs at one-year intervals with the first boat slated for delivery three years after the conclusion of the agreement. The refit of the three Sindhughosh Kilo (Project 877EKM)-class SSKs, which entered service in 1990, 1991, and 2000 respectively, would extend their operational life by 10 years.