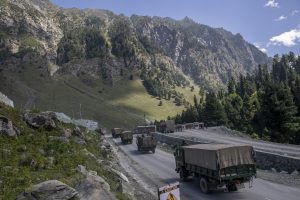 In this Sept. 9, 2020, file photo, an Indian army convoy moves on the Srinagar- Ladakh highway at Gagangeer, northeast of Srinagar, Indian-controlled Kashmir.Credit: AP Photo/ Dar Yasin, File
The number of Sino-Indian border escalations in the past decade has outnumbered those that occurred in the five decades after the 1962 border war. These recent escalations shattered the stability that both sides had achieved through agreements signed in 1993, 1996, and 2005.
The unresolved border disputes, the rise of nationalist leaders in both countries, and the impact of international politics have all contributed to the tensions. These three factors did not operate simultaneously in the past, but have interplayed and reinforced each other in the recent period.
History informs us that more wars break out over contested territories than for political, ideological, or economic reasons. China and India inherited the world's longest unmarked border. The strategic significance of the disputed border, the animosity that they developed over decades, militarization, and resultant nationalism together compound the border issues.
Meanwhile, other factors help incentivize escalation. These include the strategic value of the disputed territories, prior military confrontations between the contenders, incompatible regimes in the disputant countries (as different regime types pursue different objectives during negotiations), a perception that others' actions will change the status quo, and the breakdown of established norms as happened after the Galwan incident.
While these conditions have the potential for conflict, escalation is not automatic. The escalations were triggered by the policies of new nationalist leaders in both countries and the impact of international politics.