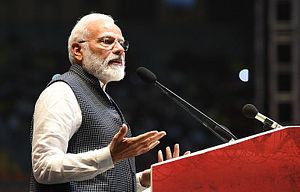 Editor's Note: The following is a preview of the latest edition of the APAC Risk Newsletter, presented by Diplomat Risk Intelligence. To read the full newsletter, click here to subscribe for free.
This week, Indian Prime Minister Narendra Modi delivered a national address (full text here) that, among other things, was meant to provide a sense of relief to the country's 1.3 billion people about how the government was managing COVID-19's economic and health effects. Many analysts had anticipated that some sort of direct economic relief would be announced and they weren't disappointed. Modi unveiled a $266 billion package, amounting to around 10 percent of Indian GDP—one of the largest stimulus packages to date by any country, certainly an emerging economy like India, in response to the effects of COVID-19.
The stimulus package was clear enough: It came with a price tag and Modi clarified some of the ends to which it would go. Along with the Reserve Bank of India's moves to date and earlier relief in March, the Indian government is not holding back on big spending. The country's COVID-19 response, however, has continued to face criticism for its inadequacies, particularly insofar as the poor and migrant workers are concerned. Tens of millions continue to find themselves untethered from opportunities for income, raising the stakes considerably day-to-day. Indian businesses, too, have taken a major hit across the board as the lockdown's effect on demand has reverberated over the last nearly two months.