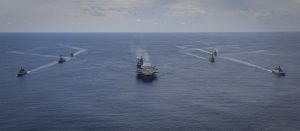 Hard times call for creative, resourceful thinking – in everyday life as well as high international politics. As the India-China crisis along the Line of Actual Control (LAC) enters its sixth month, New Delhi's strategic community is once again back at the drawing board, trying to figure out a way to restore a semblance of strategic parity with China, if not dislodge the People's Liberation Army (PLA) from its newly-occupied positions in Ladakh. It has become evident that neither diplomacy nor economic threats have made the PLA budge a bit. At the same time, prolonged, and perhaps permanent, heat along the LAC will sap India's defense resources and serve as a potent reminder from China about who has the upper hand in the relationship.
One way out, some in India have argued, is to refocus the country's strategic attention away from land and on to the seas. While this is not a new argument – the idea of "theater-switching" is especially common among serving and retired Indian naval officers, for obvious reasons – it has once again appeared in circulation. And, at the face of it, it is an attractive idea. New Delhi's continental dilemma – as I have argued in these pages – threatens to permanently box the country in as a frontier power, and more so whenever it tries to decisively break free from it. Why not stop fretting about the 4,338-kilometer long disputed borders with China and Pakistan, and instead look toward the Indo-Pacific? Why not complicate China's life in the maritime theater?
Alas, this line of thinking is unlikely to fructify due to problems with the very constituents of strategy. Any strategy is a way to align (often limited) means to set goals. India's limited military resource base, stickiness in its allocation priorities, as well as inter-service bureaucratic rivalry hobble the "means" end of the chain, while the "ways" to attain the goal of deterring Chinese grey-zone coercion and salami-slicing along the LAC themselves remain unclear, irrespective of any future growth of the military-resource base.