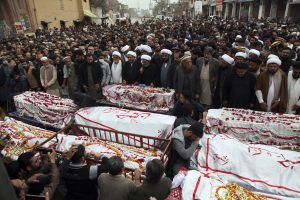 Since the Afghan Taliban reclaimed power in Kabul, there has been a gradual increase in insecurity in Pakistan, with a rise of terrorist acts. 2022 witnessed
27 percent
more terrorist acts as compared to 2021, and the lethality continued to intensify, as is evident from the Police Lines mosque suicide bombing in Peshawar. Thanks largely to that attack, January 2023 was also one of the
bloodiest months
on record for Pakistan, with 134 people killed and 254 injured in at least 44 terrorists incidents across the country. Across the border in Afghanistan, attacks have also targeted Pakistan's interests, including an attack on Pakistan's mission in Kabul in December 2022.
The Afghanistan-Pakistan border has been the main theater of vulnerability. The frequent terrorist attacks during the last two years, especially in Balochistan and Khyber Pakhtunkhwa (KP) provinces, indicate the resurgence of terrorism. However, a decline in violence incidents was observed in Punjab and Sindh, farther from the Afghanistan-Pakistan border.
Policymakers and security establishment are aware of rising insecurity in the country being posed by banned outfits such as Tehreek-e-Taliban Pakistan (TTP), Balochistan Liberation Army (BLA), Baloch Nationalist Army (BNA), Sindhudesh People's Army (SPA), and Islamic State Khorasan Province (ISKP).
As the spate of terrorist violence increased across Pakistan, elements from the TTP, BLA, and ISKP have played a major role. Their resurgence has much to do with the evolving situation in Afghanistan, from where most of these groups draw their strength, in addition to using the landlocked country as a retreat ground. This has proven to be one of the most dangerous aspects for Pakistan.