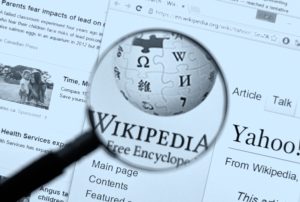 Pakistan's media regulator said Monday it blocked Wikipedia services in the country for hurting Muslim sentiment by not removing purportedly blasphemous content from the site. Critics denounced Islamabad's action, saying it was a blow to digital rights.
Under Pakistan's controversial blasphemy laws, anyone found guilty of insulting Islam or its figures can be sentenced to death. Although the country has yet to carry out capital punishment for blasphemy, vigilante mob attacks against those accused have resulted in dozens of murders.
Even allegations of the offense are often enough to provoke mob violence and even deadly attacks. International and domestic rights groups say that accusations of blasphemy have often been used to intimidate religious minorities and settle personal scores.
The Pakistan Telecommunication Authority says it blocked Wikipedia because a 48-hour deadline to remove the content was ignored, according to a spokesperson. "Such things hurt the sentiments of Muslims," said Malahat Obaid, from the regulator.
She said Pakistani authorities are in talks with Wikipedia officials and the ban could be lifted if the platform completely removes anti-Islam content.
The Wikimedia Foundation on Saturday confirmed the ban, saying: "We hope that the Pakistan government joins us in a commitment to knowledge as a human right and restores access to @Wikipedia and Wikimedia projects promptly, so that the people of Pakistan can continue to receive and share knowledge with the world."
Mohsin Raza Khan, a Pakistani social media expert, said it is easy to update or replace Wikipedia material deemed sacrilegious or offensive for Muslims — so blocking the site is not the answer.
"Pakistan's media regulator and other authorities should try to find some viable technical solution to such problems as blasphemous content is available everywhere," he said. "It is equal to a drop in the ocean of knowledge."