By Rajeswari Pillai Rajagopalan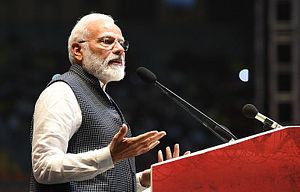 Indian Finance Minister Nirmala Sitharaman presented the new budget for the country last week. From the perspective of defense modernization, the budget has yet again proved to be disappointing, with significant implications for India as well as other key partners and competitors.
Sitharaman announced an allocation of 4.71 trillion rupees (about $66.9 billion) for the Ministry of Defense (MoD), 15.49 percent of the total central government expenditure. Of this, almost $45.8 billion goes to meet the expenses of the army, navy, and air force as well as the Defense Research and Development Organization (DRDO). The rest of the allocation goes to meet defense pensions (about $19.0 billion) and MoD (Civil) (about $2.1 billion). The revised estimate for the previous year, 2019-20, was $65 billion.
The allocations for the various services are once again not very different from previous years: the army has received the biggest chunk of the allocation of 56 percent, the air force at 23 percent, and the navy has the smallest share at 15 percent. Over the last few years, India's defense budget allocation has drawn unfavorable comparison to the budgets in the period prior to the 1962 war with China.