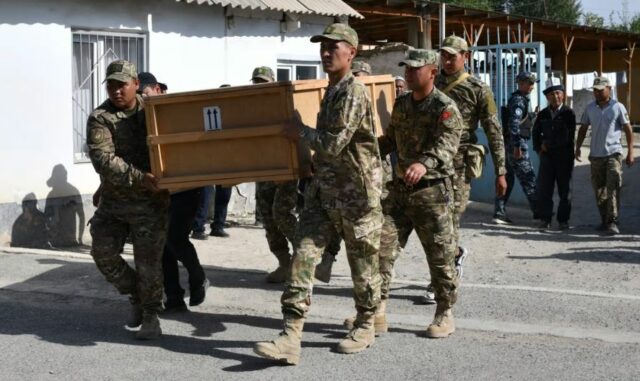 What had been a long-running local conflict between Kyrgyzstan and Tajikistan regarding the delimitation of borders and the fate of exclaves has now expanded over the past two weeks to include major military units and the targeting of infrastructure deep within the territory of both countries. As a result, the chance for a full-scale war between the two Central Asian countries has become ever more likely (see
EDM
, September 23;
Ia-centr.ru
, October 30). At the same time, a potential agreement resolving border disputes between Kyrgyzstan and Uzbekistan has now sparked protests by Kyrgyzstani citizens opposed to the accord, which threatens to further destabilize the already troubled country and possibly drive it into war (
Cabar.asia
, November 1). These developments would be serious enough on their own, but they have been compounded by the meddling of outside powers, including Russia, China and the United States (see EDM,
February 15
,
June 22
,
October 25
), as well as the growing threat emanating from Afghanistan for Tajikistan most directly but also for Kyrgyzstan and other parts of Central Asia (see
EDM
, September 20).
While the Kyrgyzstani-Tajikistani conflict is intertwined with the Kyrgyzstani-Uzbekistani clash, it is far more likely to lead to a major war than the latter, according to Aleksandr Knyazev, a specialist on Central Asia at St. Petersburg State University (Ia-centr.ru, October 30). Knyazev points out that the border clashes between Kyrgyzstan and Tajikistan have not only increasingly involved regular army units from both sides but have also led to the arming of both populations, something that raises the possibility of a partisan war in either country—one that could resemble the anti-Soviet Basmachi movement in the 1920s and 1930s. But what is most worrisome, he says, is that both countries are using drones and other long-distance weaponry to attack regions far from their shared border, including as distant as the Pamirs in southern Tajikistan on its border with Afghanistan.