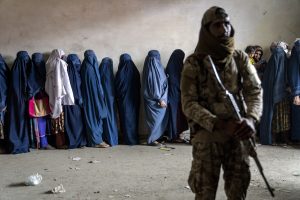 Many Afghan women never experienced the Taliban's first period of rule in the 1990s. For these women, who "have tasted the sweet flavor of freedom," as Amina Zurmati and Qudratullah Zurmati told The Diplomat, the Taliban takeover in mid-August 2021 and the subsequent two tears have been "unbearable and hard to digest."
Amina Zurmati and Qudratullah Zurmati are graduates of political science and public administration from the American University of Afghanistan (AUAF). They are writers and human rights defenders focused on the fight for the rights of women and minorities. In the following interview with Catherine Putz, The Diplomat's managing editor, they share the voices of the women they've interviewed and discuss in detail the difficulties the Taliban's return have created for Afghans, particularly women, girls, and minorities, and what the international community can do.
For a recent article, you shared the voices of female Afghan salon owners reacting to the Taliban's latest decree banning their activities. Have salons been a refuge of sorts for Afghan women since the Taliban takeover? What will it mean if they are shut down – both for owners but also customers?
Afghan women in the past two decades have made a steady but significant advance toward fulfilling their human rights. Today's situation of women in Afghanistan, however, is an affront to all standards of humanity. It is a sobering reminder of how aggressively and quickly the rights of women and 20 years of achievements can be taken away. Having been denied their right to education, work, movement, and visits to parks and gyms, since the takeover of the Taliban, among others, beauty salons have been one of the remaining refuges for Afghan women and a place where women could visit and socialize.
Having been wholly excluded from the public and deprived of almost all their human rights, women spoke to us of feeling strangled, isolated, and invisible in public life, and believing themselves to be living in prison-like conditions. Beauty salons were reported to be one of the last places where women could visit, gather, and enjoy temporary happy moments with other women far from their imprisonment at home.
Beauty salons were separated from the street by dark, thick curtains, and women felt free for a moment there. They were free to take off their black abayas, walk around, have their nails and toes painted, which they aren't supposed to show in public. They could have their hair cut and coloured while exchanging news and chatting away.