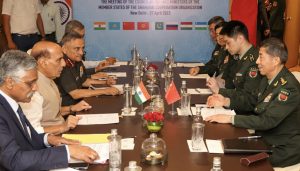 Indian Defense Minister Rajnath Singh, seated third left, attends a meeting with his Chinese counterpart Li Shangfu, right, during the Shanghai Cooperation Organization Defense Minister's Meeting in New Delhi, India, Thursday, April 27, 2023.Credit:
Twitter/Rajnath Singh
China's defense minister says conditions along the tense, high-altitude border with India are "stable overall," in sharp contrast with the far more pessimistic view from New Delhi.
The remarks from Li Shangfu came in a statement issued shortly after a meeting Thursday with his Indian counterpart Rajnath Singh in New Delhi. "China and India have far more common interests than differences," Li was quoted as saying.
"At present, conditions on the China-Indian border are stable overall," Li said. The sides should "take a long-term view, put the border issue at an appropriate place in bilateral relations, and promote the normalization of the border situation as soon as possible," he said.
In its own statement, India's Defense Ministry quoted Singh as saying China had eroded the "entire basis" of ties between the countries by violating bilateral agreements, in reference to a nearly 3-year-old standoff involving thousands of soldiers stationed along their disputed border in the Ladakh region.
The differing tone of the statements reflects India's desire to draw attention to what it says is the deployment of a large number of Chinese troops, their aggressive behavior, and attempts to unilaterally alter the border status quo between the countries.
China, for its part, has tried to downplay moves to consolidate its border presence and often portrays the frictions as part of deliberate U.S. attempts to sow discord between the two nuclear-armed Asian giants.