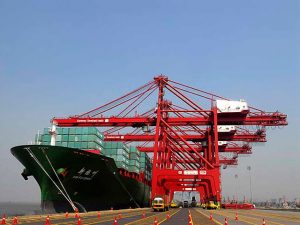 On August 10, India's Prime Minister Narendra Modi unveiled plans for the development of a transshipment terminal at Great Nicobar island, one of the Andaman and Nicobar Islands (ANI). Part of a slew of projects that India is implementing in the archipelago to boost economic development there, the transshipment port project, estimated to cost 100 billion Indian rupees, could also help India address some of the problems dogging its maritime trade.
The ANI is a chain of 572 islands, of which 325 belong to the Andaman group and 247 to the Nicobar group. The archipelago lies east of the Indian mainland in the Bay of Bengal. In terms of distance, the island chain is closer to several Southeast Asian countries than to mainland India. While Port Blair, the ANI's capital, is 750 nautical miles from the Indian mainland, the archipelago's northernmost island is just 22 nautical miles from Myanmar and the southernmost tip only 90 nautical miles from Indonesia. Thailand lies 270 nautical miles to the east of the ANI.
A port at Great Nicobar will therefore provide a shot in the arm to India's trade with Southeast Asia and a much-needed boost to its "Act East" policy.