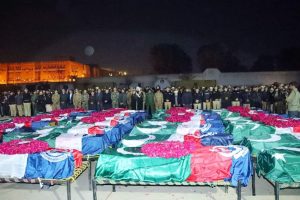 Funeral prayers for police personnel killed in the suicide attack on a mosque in the Police Lines area in Peshawar, Pakistan on January 30, 2023
The deadly suicide bombing inside a mosque in Peshawar's Police Lines area on January 30 has deepened the realization among Pakistan's policymaking circles that dealing with the Tehreek-e-Taliban Pakistan (TTP) necessitates a new approach.
The attack, which appears to have been targeted against police personnel praying at the mosque, claimed the lives of over a hundred people, most of them policemen. Over 200 others were injured in the attack, many of them critically.
The attack came two months after the TTP unilaterally withdrew from a ceasefire and ordered its fighters to carry out attacks across Pakistan. Several bloody attacks have taken place in the months since.
Pakistan's civil-military leadership agree that the old approach of talking to the TTP was perhaps part of the problem. Moreover, the idea of hoping to disarm the group with the help of the Afghan Taliban did not work, partially because the Taliban regime's relationship with the TTP is stronger and more important to it than its ties with Islamabad.
Pakistan's Defense Minister Khwaja Asif told parliament on Tuesday that TTP fighters had fought alongside the Afghan Taliban against the United States and its allies. Consequently, the Afghan Taliban "are repaying their debts [to the TTP] and are turning a blind eye to whatever they are doing in Pakistan from across the border." He also said that it was time Pakistan puts its house in order, suggesting that the country needed to follow a consistent policy with regard to dealing with militants.