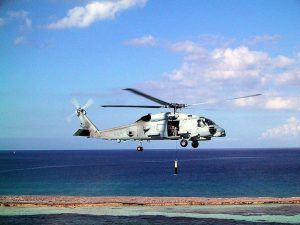 India's Cabinet Committee on Security headed by Indian Prime Minister Narendra Modi approved on February 19 the procurement of 24 Lockheed Martin-Sikorky MH-60R Seahawk Romeo multirole maritime helicopters worth $2.6 billion, according to local media reports.
"The Cabinet Committee on Security (CCS) cleared the procurement of 24 MH-60R multi-role helicopters for the navy," an official was quoted as saying by The Economic Times on February 19.
The approval comes only days ahead of a much anticipated visit of U.S. President Donald Trump to the subcontinent. It marks the first official state visit of Trump to India since taking office in 2017. 
The MH-60Rs will be bought directly from the U.S. government under a Foreign Military Sales (FMS) agreement with the U.S. Department of Defense (DoD) to expedite the induction of the new helicopters into the Indian Navy. 
The Ministry of Defense's (MoD) Defense Acquisition Council (DAC) already approved in August 2018 the procurement of 111 armed light naval utility helicopters (NUH) and 24 naval multirole helicopters (NMRH) for the Indian Navy under the Indian Ministry of Defense's (MoD) new strategic partnership policy.